Happy Birthday Aidan!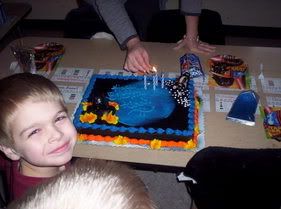 Yes, it's actually on Friday, however, we celebrated today. We had the party at daycare, and since the later in the week, the less children are there, we had it today. Also, this way Aunt Ganeath and Deidre were able to attend.
Aidan really took to Deidre and told her she HAD to come to the party so she wouldn't miss getting any of his cake! He decided on a Star Wars birthday party, so here is his cake- the middle is a blue planet, and that's Vader on the left and Anakin on the right. He also had a Darth Vader pinata, and we used lightsabers to hit it. The thing was PACKED- there were lollipops literally hanging out the hole where it was stuffed. I picked his favourite candies for it: M&Ms, Tootsie Rolls, Smarties and Dum-Dums.
He also was able to open up his presents for his birthday today- and he said "Its what I ALWAYS wanted!" to just about everything. He had a blast!
Aunt Ganeath and I have been busy going through a lot of mother's things, and by today we were just emotionally and physically drained. I think I'm still in a bit of denial. She took somethings that had been passed down- from great-grandmothers I never knew, etc. I know it means more to her, or to my Nanny. I did request that once Aidan was old enough, that he should get mother's baby book back, and Aunt Ganeath told me she would see to it. With my future so uncertain, I feel better with it this way. I know dad would take care of it and such, but I think Nanny and Pa-paw would like to see it again.
Physically, I'm still hurting pretty good, and that's not fun. I'm also bruising in different places, and they kind of hurt.
On a good note- "Serenity" is on DVD tomorrow. If you haven't seen it, I still suggest it. If you have no idea what "Firefly" is-???!?!?!!!- please read my blog from late September. I have since gotten Mary on the Firefly bandwagon... I want her to finish the "Firefly" series and then we are going to watch "Serenity"- eating Chinese food, of course... and maybe some strawberries for dessert...